First TIme at KIIPEILYAreena
Register before you arrive!
We register all our customers for safety reasons. During the registration process, we show a video on key safety issues. In addition, we provide on-site guidance for all first-time visitors. We recommend that you register in advance using the link below the image to avoid waiting. Everyone 14 years of age or older should register.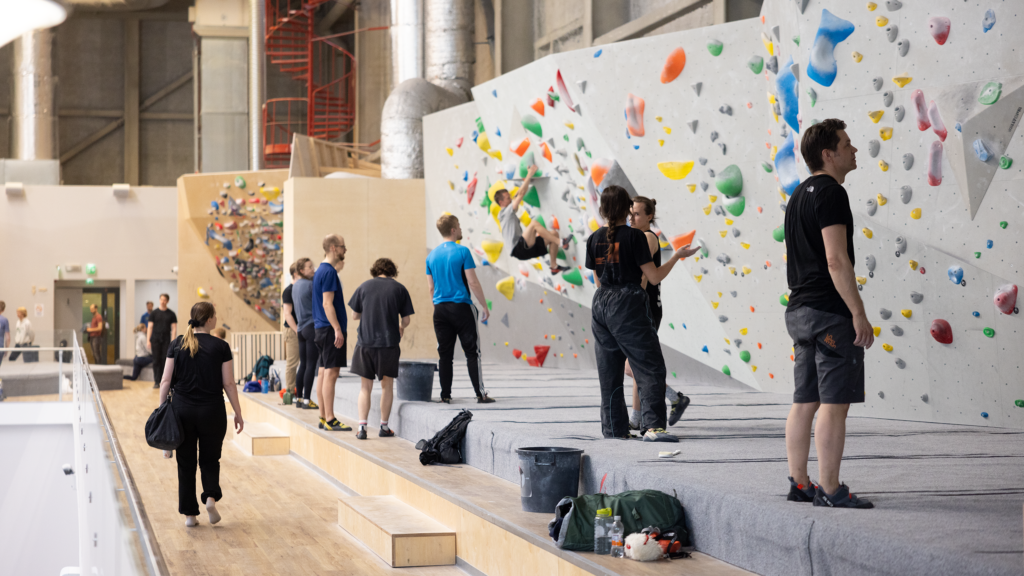 NOTE! Registration will only go through if the videos are watched to the end. Do not leave the page during the videos, as this will interrupt the videos and you will have to start again. Also remember to press the "NEXT" button after the videos are finished. Once you have completed your registration, you will receive a notification in your email. The system will then set up a climbing account for you, which will allow us to find you in the cashier system when you arrive.
For all new registrations, we offer the possibility to buy a 3 times card for the low price of €49 (rental equipment included). The discount is valid for two weeks from registration and the purchased 3 times card is valid for 12 months from the date of purchase.
Age limits for children
All children under 14 years of age must be accompanied by an adult guardian at the KiipeilyAreena facilities during the entire climbing session.
Children of childcare age (4-6 years):
Climbing with auto-belay equipment, provided that the minimum weight limit of 15 kg is met.
Climbing on the top rope with a belayer
Bouldering in areas suitable for children, accompanied by a guardian. In the Salmisaari bouldering area, the age limit is 12 years
School-aged children (7-13 years):
Must always be accompanied by an adult guardian who has registered.
Climbing in Salmisaari and Ristikko with auto-belay equipment under adult supervision. 12-year-olds may use auto-belay equipment independently. Children under this age must always be attached and detached by an adult guardian.
Climbing on the top rope with a belayer
Bouldering under the supervision of a guardian
Children and young people aged 14 to 17:
Climbing without the presence of a guardian
Possibility to take a safety card
There must be consent from a parent or guardian for independent climbing
First time on a climbing wall or have you tried it occasionally?
You can always come to the gym without an appointment. Our staff will give you an initial introduction and provide you with the necessary rental equipment.
In Ristikko, Salmisaari, Kalasatama or Tammisto?
In Ristikko and Salmisaari you will find both high climbing walls and bouldering. Kalasatama and Tammisto are climbing gyms exclusively dedicated to bouldering, and offer the best conditions for boulder climbing.
Bouldering or high walls?
Bouldering means climbing low climbing walls on mattresses without a harness. In Ristikko and Salmisaari, you can also climb 10 to 29 metres high climbing walls with a harness. Beginners with no previous experience can also climb with auto-belay equipment, for which we always provide instruction. There are 22 climbing lines with auto-belay equipment in Ristikko and 10 in Salmisaari.
Welcome to KiipeilyAreena!
---