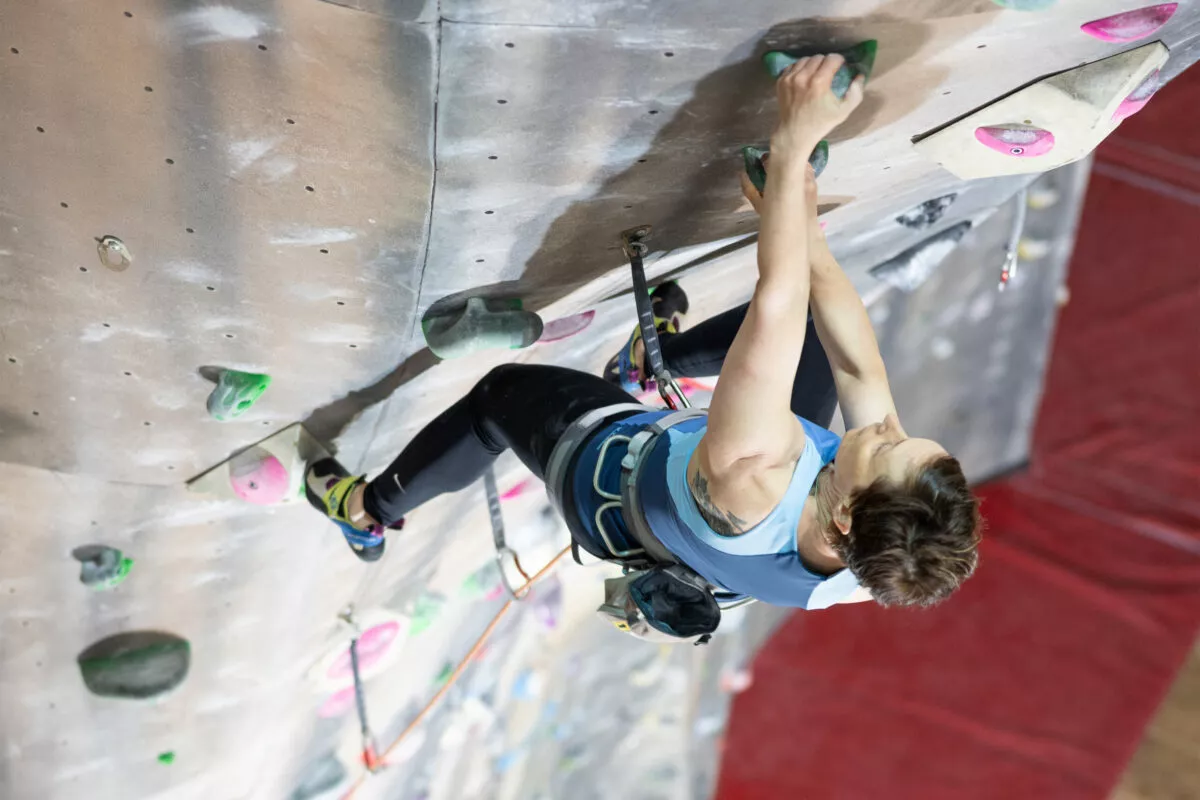 KIIPEILYAREENA SALMISAARI
At KiipeilyAreena Salmisaari you will find 3000 square metres of climbing walls on two floors, separate bouldering and side training areas and much more. The highest climbing wall is 29 metres and even beginners can climb up to 12 metres with a harness and auto belay devices.
Location
KiipeilyAreena Salmisaari
Salmisaaren Liikuntakeskus, K1-floor
Energiakatu 3
00180 Helsinki
Opening hours
Mon–Fri 10–22
Sat–Sun 10–20
——
6.12. 10–22 (no members' mornings)
24.12. closed
25.12. closed
26.12. 10–22 (no members' mornings)
31.12. 10–18
1.1. 13–22
6.1. 10–20
——
MORNING HOURS FOR MEMBERS
Mon-Thu 8 am onwards
Prices
Adults on weekdays (before 3 PM)
13 €
Child (under 18 yrs)
10 €
Under 5 yrs w/ paying adult
0 €
Rental gear
Services
Auto belays

Climbing with automatic "auto belay" devices is a fun and easy way to climb high climbing walls without any previous experience. The devices allow you to climb up to 12 metres. There are routes for climbers of all levels. On the first floor there are 10 auto belays and on the upper floor there are 4 auto belays on routes designed for juniors. The weight limits on the auto belays range from 15 to 150 kg. We always guide first-timers in the use of the equipment. Climbing with auto belays is also a great option for those who want to practice rope climbing independently.
Top-rope and lead climbing

The highest climbing walls in Salmisaari reach up to 30 metres! For rope climbing, you need a partner who can belay you. Lead climbing brings many new dimensions to the climbing hobby, and we recommend anyone interested to take a rope climbing course, which will give you the skills you need. Read more under "Courses and coaching". For rope climbing, you will need to have a belay card.
Bouldering

Bouldering means climbing on low walls. There are thick mattresses under the walls in case of a fall. Bouldering allows you to climb without a climbing partner, making it very easy to get started. All you need are climbing shoes, which you can also rent on site. As well as developing skills and body control, it also develops problem-solving abilities. You can start bouldering without any previous climbing experience. In Salmisaari, the bouldering area is located on the second floor – the age limit is 12 years. There is also a junior bouldering area for children, which may occasionally be used by club activities and closed to customers.
Members' gym

There are also members' areas in the gym, which can only be accessed with membership card. There is a well-equipped fitness gym, a training room, changing rooms and a sauna. Whether you want to warm up, work out or top up your climbing, the gym has a range of equipment to suit your needs. The gym also has a campus wall, finger boards and a training wall with an adjustable angle to suit your workout.
Sauna

We also want to support the wellbeing of our members, and that's why we have a sauna in the members' area to help them recover. The sauna heats up on Tuesdays and Thursdays from 15:00 and on Saturdays and Sundays from 10:00. The sauna is accessible from both the men's and women's changing rooms, so the unisex sauna is towel-on. The sauna helps to relax muscles, improve circulation, increase flexibility, reduce stress and recover between workouts. Taking a sauna while climbing can improve your performance and well-being.
Aquarium

For our members there is a versatile training area on the 1st floor of the building; the "Aquarium". In the aquarium you will find training walls with three different inclinations, where you can create your own boulder, with walls full of holds. The aquarium also features a campus board with three different grip sizes and several different finger boards for training.
Shop

In the gym lobby there is a shop where you can find everything you need for climbing, such as climbing shoes and harnesses and small accessories. Members get up to -20% discount on products in the shop (excluding books and DVDs). Our knowledgeable staff will help you choose the products you need.
Versatile facilities for groups

Salmisaari is the perfect place to organise a sporty recreation day for the work community. We have climbing walls and facilities for groups of different sizes, so you can organise a climbing experience for your work group or group of friends.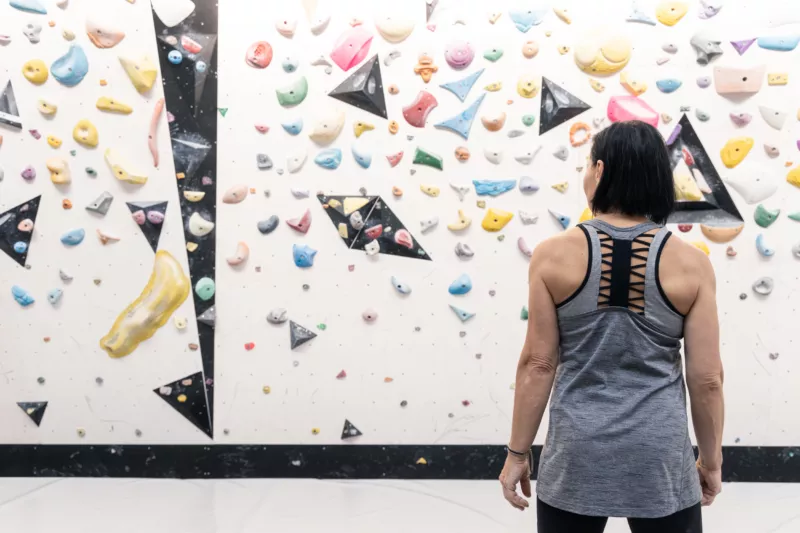 Become a member!
As a member, you can climb all four of our gyms at a great price all year round! Plus, you get great benefits.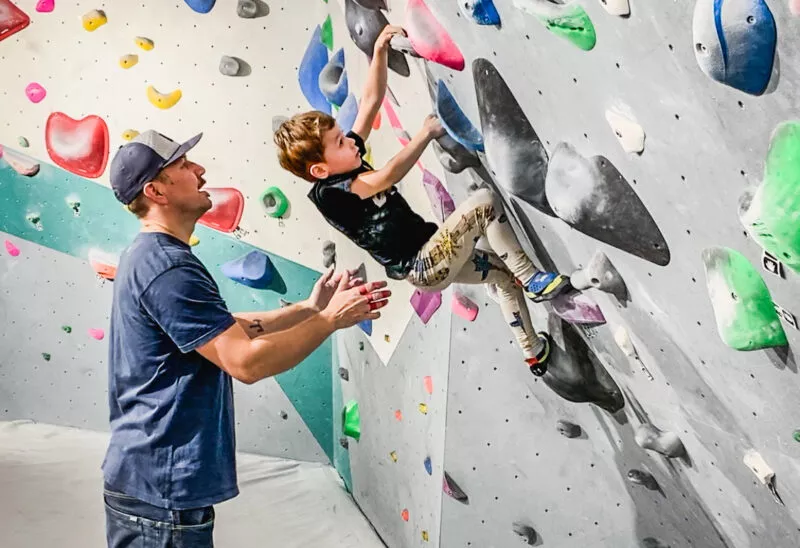 FOR THE FIRST TIME?
Are you a first-time climber or an occasional climber? You can always come without an appointment. Our staff will give you an introductory guidance and provide you with the necessary rental equipment. We ask you to register before you start climbing.
PHOTOS FROM SALMISAARI
---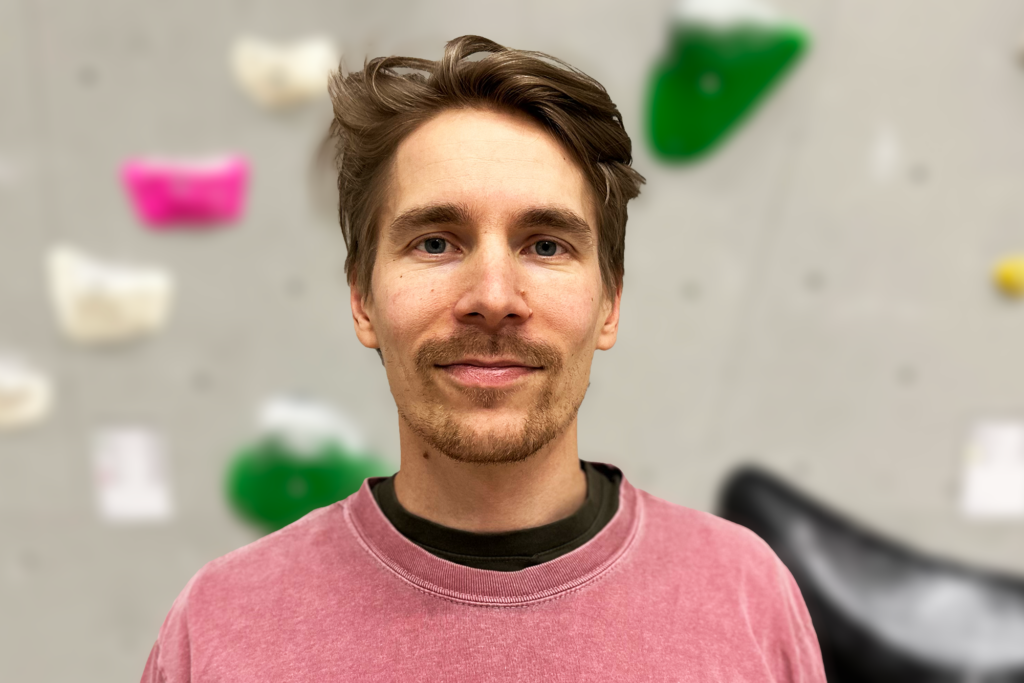 Jonne Heinonen, Salmisaari Gym Manager
"KiipeilyAreena Salmisaari opened in 2009 and was the take-off of my own 'climbing career'. My climbing hobby quickly moved from indoor walls to outdoor cliffs around the world, thanks to the skills I learned in Salmisaari. It's always great to return to Salmisaari to climb, train, see friends or even introduce the sport to a new friend. With the best route setters in the business, good wall profiles and our friendly staff, Salmisaari welcomes beginners and experienced climbers alike."