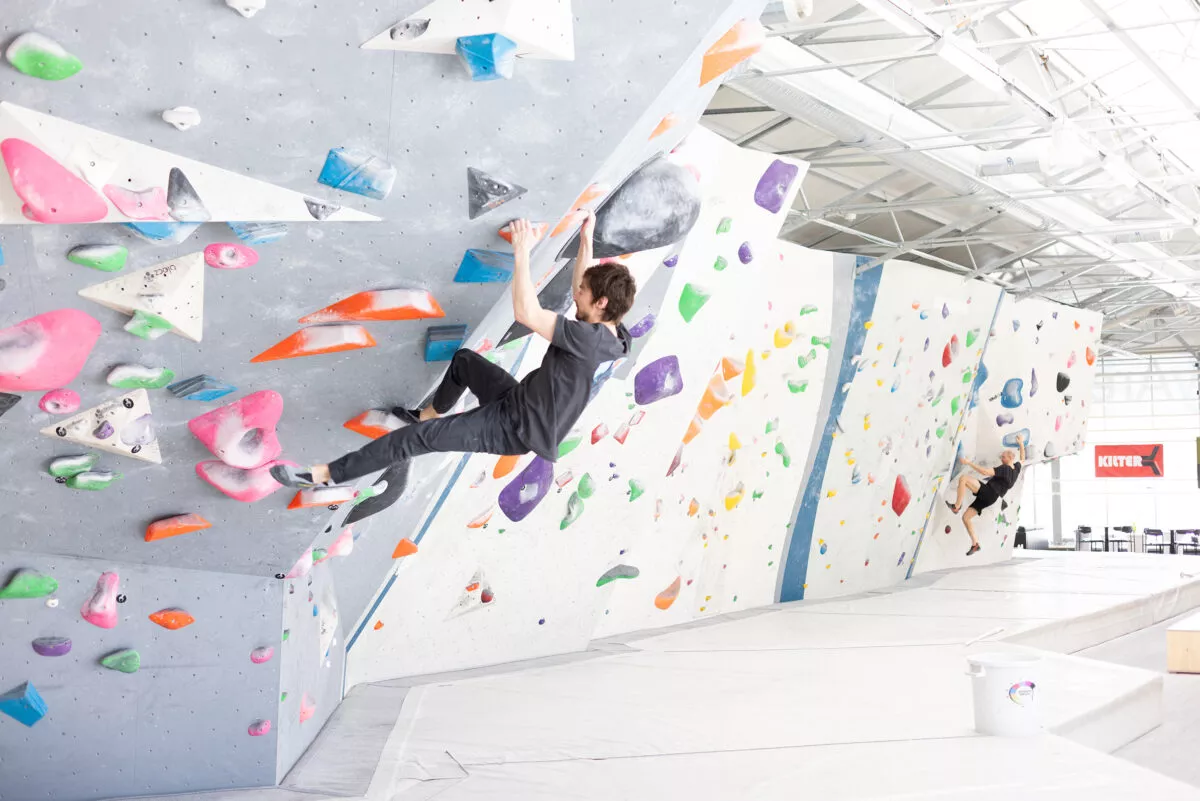 KIIPEILYAREENA Tammisto
We are a versatile bouldering gym for climbers of all levels, from beginners to pros. The gym is on one level and has free parking next to it – also accessible by public transport. You can train efficiently using our fitness gym, large training wall and Kilter Board, among other things.
Location
KiipeilyAreena Tammisto
Plantagen-property (north side)
Tammiston Kauppatie 10
01510 Vantaa
Opening Hours
Mon–Fri 10–22
Sat–Sun 10–20
——
6.12. 10–22 (no members' mornings)
24.12. closed
25.12. closed
26.12. 10–22 (no members' mornings)
31.12. 10–18
1.1. 13–22
6.1. 10–20
——
MORNING HOURS FOR MEMBERS
Thu-Fri 8 am onwards
Prices
Adults on weekdays (before 3 PM)
13 €
Child (under 18 yrs)
10 €
Under 5 yrs w/ paying adult
0 €
Rental gear
Services
Bouldering

Bouldering means climbing low walls with a thick mattress underneath in case of a fall. Bouldering allows you to climb without a climbing partner, making it very easy to get started. All you need are climbing shoes, which you can also rent on site. As well as developing skills and body control, bouldering develops problem-solving abilities and can be started without any previous climbing experience.
Kilter Board

In Tammisto you can find a Kilter Board, where you can train different grip types, contact strength and core very effectively. The illuminated, app-controlled training wall connects you to a global database of bouldering problems. The Kilter Board's angle of incline can be self-adjusted up to a 70˚ overhanging at increments of 5˚.
Fitness gym and training walls

Tammisto has a versatile fitness gym that is available to all customers, whether you want to warm up, work out or improve your climbing skills. The gym also has a training walls run by Klondyke Wall Ry, where you can work out effectively with different types of holds on four walls with different overhanging angles. The training wall – unlike normal boulder walls – does not have pre-designed and marked routes, but is designed by the climber. More information is available at the training wall area.
Campus and finger boards

In addition to the bouldering walls, you can complete your workout in the training area, where you will find warm-up equipment, a Campus board and finger boards. The Campus board has wooden rungs of different depths, where the aim is to pull yourself upwards with your bare hands to strengthen your finger, arm and back muscles. Hanging on the finger board trains the finger strength.
Shop

In the front desk area there is a shop, where you can buy climbing equipment such as climbing shoes, clothes and small accessories. Members get up to -20% discount on products in the shop (excluding books and DVDs). Our knowledgeable staff will help you choose the products you need.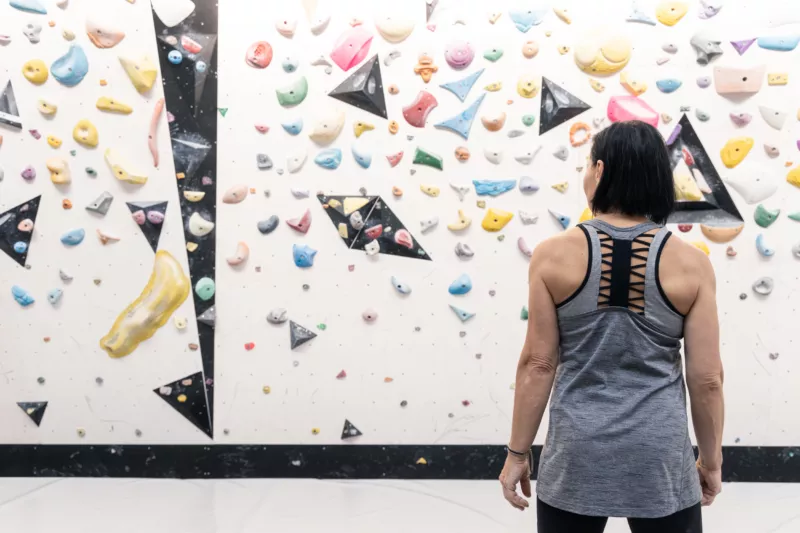 Become a member!
As a member, you can climb all four of our gyms at a great price all year round! Plus, you get great benefits.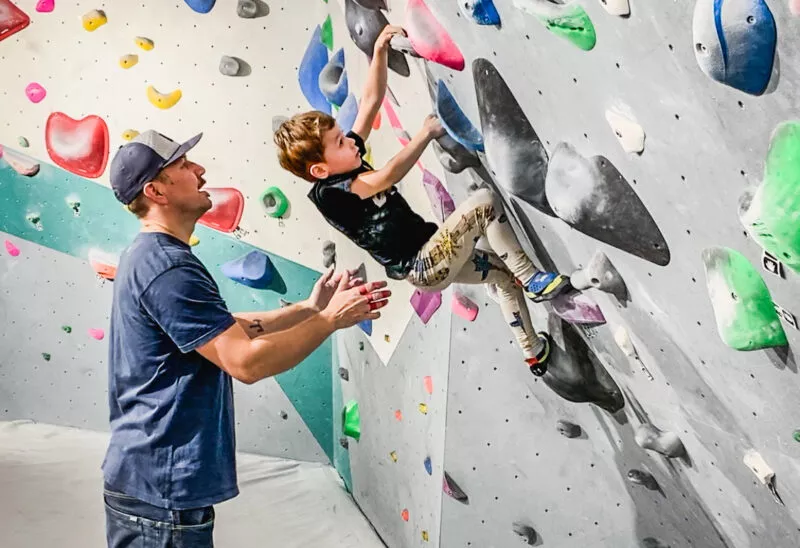 FOR THE FIRST TIME?
Are you a first-time climber or an occasional climber? You can always come without an appointment. Our staff will give you an introductory guidance and provide you with the necessary rental equipment. We ask you to register before you start climbing.
Photos from Tammisto gym
---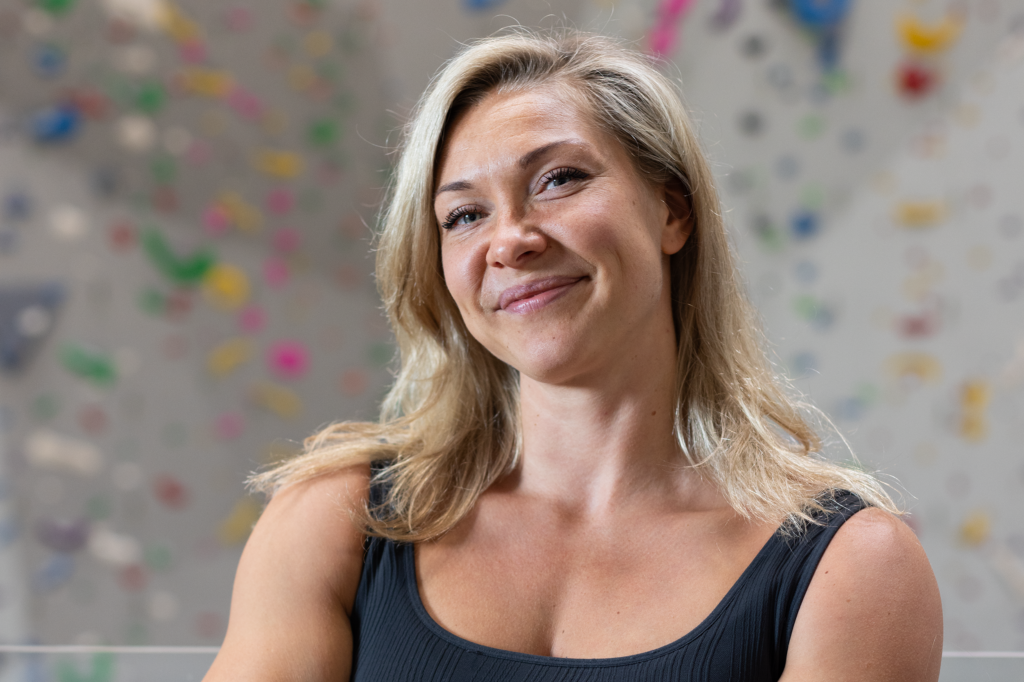 Roosa Huhtikorpi, Manager of the Ristikko and Tammisto gyms
"I started climbing at the age of 6 and I'm still on that path. At some point, climbing also became a job, culminating in Ristikko and Tammisto, where I work as a gym manager. I am very proud of my gyms and their great staff. I want everyone to feel welcome in the gyms, regardless of age and skill level."